A PROGRAM FOR THE QUALITY
OF LIFE AT WORK, FOR YOUR COMPANY.
Whether your company has 10 or 10,000 employees, working at the office or remotely, in an open space, a store or a factory: YOGIST builds with you the right program for your working environment and your challenges.
AN APPROACH IN 4 STEPS, FOR A QUALITY OF LIFE AT WORK
STEP 1: RAISE AWARENESS AMONG EMPLOYEES
Integrate an IceBreaker, a talk or a YOGIST bubble to your online or in-person event, your seminar or your team-building. For 20 minutes or 2 hours, break the ice, inspire and move your audience… even online or remote!
Your custom event
A YOGIST speaker goes around the offices and offers 15-minute mini-sessions to employees, at their workstations and in small groups, to teach them how to position themselves properly on their seats, to concentrate amidst the noise, to relax their eyes, to stretch their neck… in short, to work without breaking their backs! This is a great way to re-connect with your colleagues and proactively raise awareness among all employees, even the hardest to reach and the least receptive!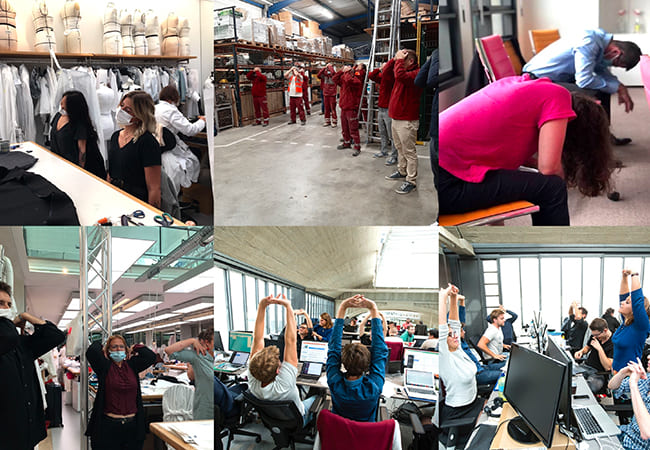 STEP 2: TEACH COLLECTIVELY
A 12 SESSIONS PROGRAM VIA VIDEO CONFERENCE
Organize breathing and movement "bubbles" (mini-sessions) as a team every month. Employees are learning to take care of themselves during their workday, at the office or at home:
30 min to de-stress
30 min to rest my eyes tired of screens
30 min to relax my neck
30 min to relieve my shoulders
30 min to prevent hand tendinitis
30 min to protect my back
30 min to avoid sciatica pain
30 min to concentrate
30 min to regain energy
30 min to recharge my batteries
30 min to sleep better
30 min to move, even when I am in a hurry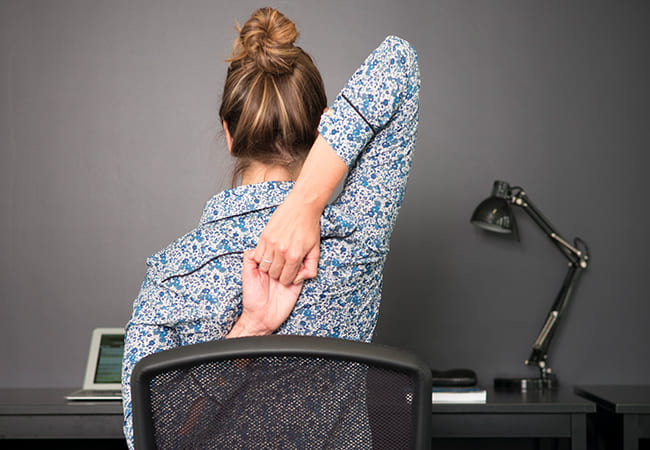 One hour session, in-person or remote, to deepen your understanding around the topic of Quality of Life at Work.
Eating well while working remotely or at the office
Sleeping like a baby when you're hyper-connected
Staying zen in the digital age
Regain energy when you have one meeting after another
Refocusing when you're constantly multitasking
STEP 3: PROVIDE INDIVIDUAL SUPPORT
The YOGIST bodyguard is a chatbot, an online advisor that reminds you to take an physical exercise break during your day to work without damaging yourself. Tell him
1) where you feel pain (eyes, neck, back…)
2) if you are tired/stressed/unfocused
3) if you are at the office (and need to be discreet) or if you are working from home and..
Voila, he will suggest to you the best 2min video exercise to stretch your neck, relieve your eyes, stretch your back or get back some energy at your desk.
Get video clips on good practices to adopt at the office (or remote) with our "Well at Work" e-learning program: 15 thematic clips of 5 minutes to change habits and enrich your online training programs. They can be hosted on your HR intranet, your LMS or your internal social networks.
To change work from the inside, YOGIST trains your managers to take care of themselves at work in order to stay efficient… and to spread these techniques within their teams
Discover our Managers Training program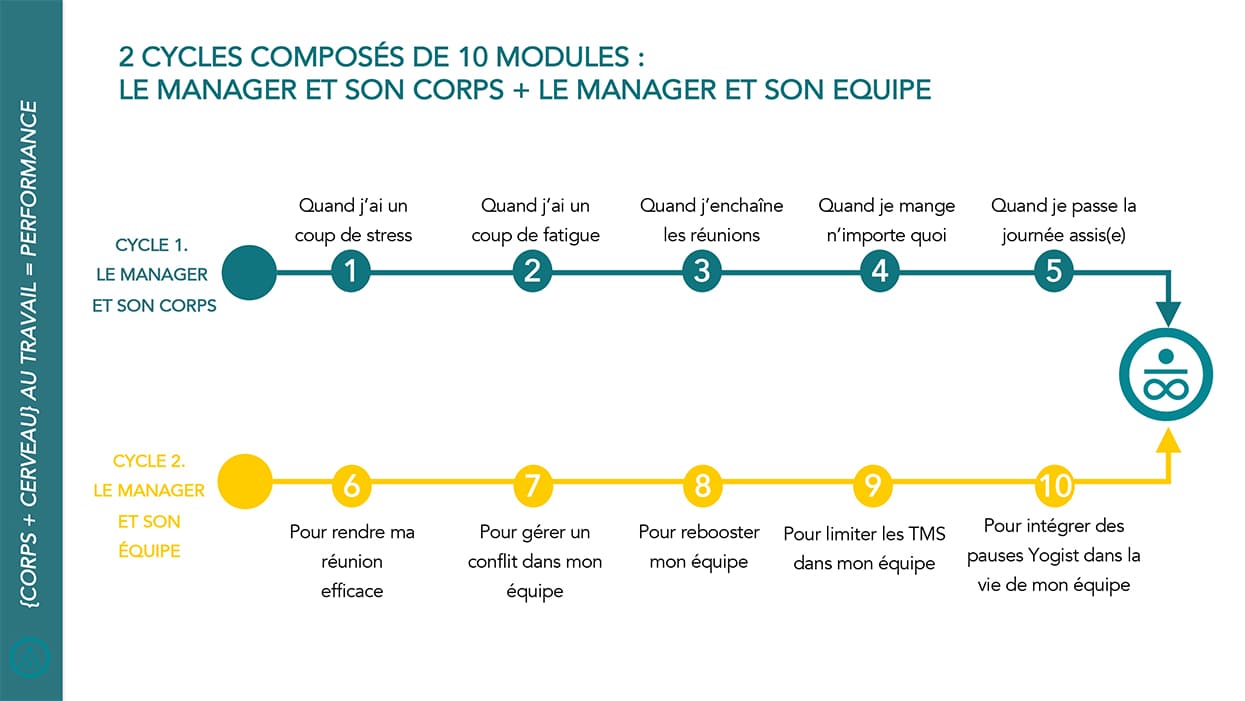 CERTIFIED TRAINING FOR INTERNAL QUALITY OF LIFE AT WORK REPRESENTATIVES
3 days to train volunteer employees how to teach techniques preventing stress and tension at work and implement the QLW approach within their teams
REGISTRATION & INFORMATION